Flat Roof Firestone EPDM – Prenton
Furber Roofing Limited has recently provided a new Firestone EPDM flat roof to a commercial building in Prenton, Birkenhead.
The old felt roof covering including all timber decking boards where removed from the flat roof, unfortunately the building did not have adequate insulation fitted to comply with today's regulations so a suitable rigid insulation board was fitted to the complete flat roof along with new roofing grade OSB decking boards with Firestone EPDM premium grade rubber covering providing a new flat roof with an expected life expectancy in excess of 40years and a written 20year guarantee.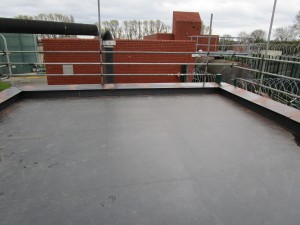 Furber Roofing Limited has been renewing flat roofs for almost 60years. We are the leading flat roof specialists based in Wallasey and cover Wirral, Liverpool, Chester and Ellesmere Port.
If you are thinking of upgrading your flat roof then look no further than Furber Roofing Limited a family run business. Contact us today on

0151 691 2978

and allow us to take care of your flat roof.